For all your Future Champions, and Festival of Swimming kit. Includes hats, hoodies, cotton t-shirts, and Technical (CoolDry) Tees.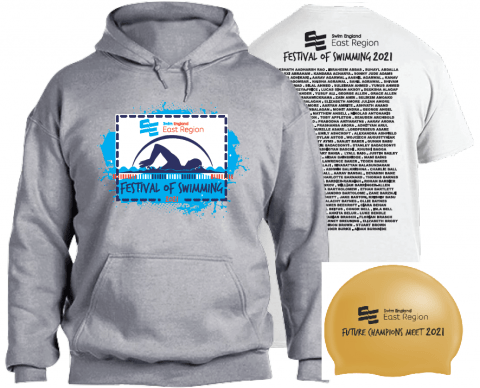 A general (non event related) swimshop  is also available at Stortford Supplies.
East Region Swimming Competitions
In accordance with the British Swimming Competition Pathway, the Swimming Committee organises the following competitions annually:
Long Course Championships – usually held in Spring and Summer
Short Course Championships – usually held in November
Details of forthcoming competitions, including entry times and conditions will be published on this page.
2021 Summer Meets Qualifying Window
Further information will become available on publication of Swim England guidance for return to competition. 
Become a swimming official
At every event we run we rely on the expertise of qualified, experienced volunteers able to provide the events that our competitors need to achieve their personal goals.
Swim England East Region has a Swimming Officials Group that co-ordinates training for officials in the Region.
East Region Travel and Expenses Policy
East Region have a travel and subsistence expenses policy for all volunteers that are appointed to work at Regional swimming events.
Download the Region's expenses policy for swimming events revised June 2021.