Following the decision to become an incorporated association, the 2020 ACM approved proposals to revise our governance structure. 
We have moved to a Board of four Directors, with a Members Forum and a Regional Operations Committee.  Each of our disciplines are managed by leadership groups, and we also have a Club Leadership Group.  The liaison with counties is enhanced by the County Forum and, where there is aligned service delivery, our leadership groups include county representatives. 
To ensure that the region maintains the highest standards of governance, we have also established an Audit, Risk and Probity Committee, and a Nominations Committee is set up to manage elections and appointments.
All members of our Board, Committees and Groups are also members of Swim England East Region clubs. 
Swim England East Region is a company limited by guarantee and registered in England and Wales (Company number 12931432).  In January 2021 the Company was granted charitable status (Charity Number 1193136).  Our registered company address is Swim England East Region, Sportpark, Pavillion 3, 3 Oakwood Drive, Loughborough, Leicestershire, LE11 3QF
Governance Structure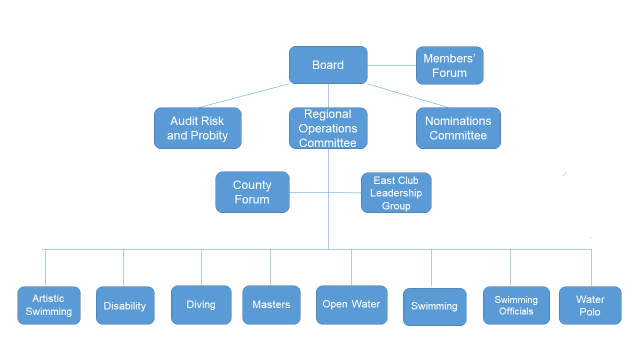 All Terms of Reference documents can be located for each Committee and Group within the accordian below.